Is it Possible to Successfully Touch Up Wall Paint?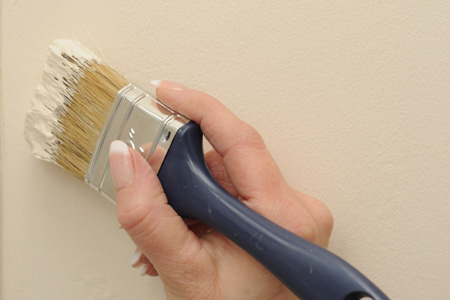 Recently we had a final walk-thru on a home and the owner tried to touch up paint before the client moved in. I wish they hadn't. This seems to be a common problem for sellers. Sometimes they are so careful to save some of the paint or the paint color mix that was last used, but when painted over the areas that need touching up you can definitely see the new patches. For some reason they look a bit shiner and it's definitely noticeable…
Before showing you how to touch up paint on the walls and ceilings in your home, it's important to note that the success of a touch-up job will depend on many factors.
Generally, the higher the paint sheen, the more difficult it is (if not impossible) to touch up the walls and other surfaces in your home without leaving a spot.
But even on flat paint finishes touched-up areas can show for many reasons:
Color on the walls has faded with time/from the sun
Paint ordered in the same color may be mixed differently in different paint stores
Not using the original method of application
Not storing paint leftovers properly
...and so on
Sometimes the only way to touch up a wall is to repaint it completely….or to do what is called a "wide roll" from ceiling to floor.
But it doesn't hurt to try, so here's how to touch up paint:
Touching Up Paint On the Walls and Ceilings
1. Patch the holes/defects with compound and sand them smooth when dry.
2. Apply a thin coat of drywall primer to the repaired areas.
3. Dilute paint with water (about 25%) and apply it, working from the center out, trying to blend the new paint into the old one.
Make sure you use the original application method - brushing, spray touch up paint method, or rolling - and with rollers, try to use the same type that was used originally.
Also, do not load the brush/roller with paint - when doing touch-ups, less is more - your goal is to feather out the touchup area, and you can always add more paint or apply a second coat if you need to. These steps should help minimize the difference in paint buildup and appearance.
And for really small scuffs on the walls where using a paint roller is not justified, try dipping a small, blunt artist's brush into the paint and dabbing it on the worn spots - this will imitate the texture of a roller and help the new paint blend in.